New York, London, Milan...Hollywood?
Forget Marc Jacobs, Gareth Pugh and Giorgio Armani and make way for fashion's one and only golden boy: Oscar! The best fashion show of all the year takes place in a day and requires only one catwalk, the red carpet. Hollywood's finest gather for a glimpse of the most fetching fashion accessory there is, the golden god Oscar.
Looking to the slew of recent fashion weeks, here are my haute-couture hopes for my favourite 3 of the Academy's style students...
Cate
Hoping to be showered with gold this year are, among others, the effortlessly cool Cate Blanchett. An Oscars regular, Cate donned a sparkling silver sheath last year which proved less than popular with the press and public alike. Personally, I thought she looked ice-maiden cool and not at all like she was trying too hard to copy the big man himself, as she was accused. Open your heavily mascara'd eyes fashion folk, Cate was in silver not gold!
This year I'm hoping she'll continue her gold streak with a nod towards one of this season's most dazzling trends -
embellishment
. Floral embroidery, every-colour-under-the sun-sequins, and giant shiny discs are bound to attract magpie Cate and rightly so. Le Blanchett knows what looks good on her and light-reflecting sequins, shimmering discs and vibrant florals feature regularly in her wardrobe.
Giorgio Armani's deliciously embroidered florals which premiered at Milan Fashion Week top my favourite embellished pieces seen on the catwalk so far and would look luscious with CB's white-blonde hair.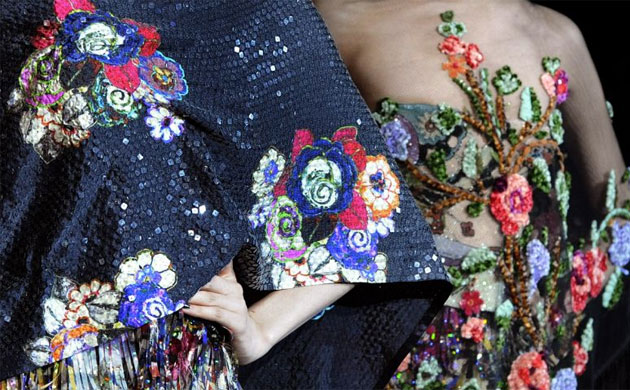 Giorgio Armani, Milan Fashion Week 2008
Equally flattering would be anything in shiny gold. Yes, gold. I'm sure Oscar would be flattered. This gorgeously embellished number from Julien Macdonald should do the trick. Macdonald's floor length show-stopper is delish.
Julien Macdonald, London Fashion Week 2008
Marion
Marion Cotillard has been working it around the awards circuit in a feminine and sexy mixture of 50s strapless gowns, loose draped mini-dresses and touch-me textures of velvet, silk, sequins and chiffon. My fourth-fashion-sense tells me MC will choose to go all-out with her Oscars debut in an extravagant floor sweeping number. I hope she will choose to amp up the classic ball gown and embrace the trend for
ruffles, frills and folds
which has graced many a designer's collection in recent weeks.
Marion's shiny dark locks would look dramatic paired with red-carpet-red. Even more daring would be to complete the ensemble with a giant Minnie Mouse bow. Ain't nothing mousy about that look!
Jenny Packham sent a number of beautiful gowns down the runway. None were more awe-inspiring than this though. Gorgeous. Make me jealous MC!
Jenny Packham, London Fashion Week 2008
I'm not outrageously keen on the graphic black beading across the bodice but I have fallen hook, line and sinker for the cheeky inverted fishtail on this dress.
Priv
é
-perfect.
Armani Priv
é
, Paris Fashion Week 2008
I'd bet my right arm (and my left) that Marchesa's gorgeously frothy gowns will make at the very least one appearance at this year's Oscars. It's hard to choose a favourite but this cascading red creation comes pretty close...
Marchesa, New York Fashion Week 2008
Tilda
I'm putting my money on Tilton for this year's fashion wild card. And I sincerely hope she comes up trumps for me! It wouldn't be the Oscars we know and love without a fashion faux-pas. It's often these so-called mistakes that delight me most. Bjork, Cher, Lara Flynn Boyle all made me smile with their theatrical and grabbing garb. Thespian Tilda favours futuristic frosted creations and looks far-out fabulous in them. With her etheral beauty and fashion-hanger figure she would look amazing in any of the
volume
pieces dominating fashion weeks.
Her pale and interesting looks lend themself well to shimmering greys, whites and silver.
Chanel sent some of the more wearable volume pieces down their catwalk and I think Tilda would KILL in them.
Chanel, Paris Fashion Week 2008
May the best dressed win.