Amen for men!
There's nothing more satisfying than a man in a suit.
Johnny Depp, George Clooney, Daniel Craig...need I continue?
Suits - they're not just for the gents.
Diane Keaton, Bianca Jagger, and now Kirsten Dunst prove sexy doesn't have to be sissy. That's why I'm delighted to see so many tuxedo jackets and three piece suits littering high street stores and the catwalks alike (my favourites are from GAP, H&M, Dior Homme and Burberry).
Tailored blazers and loose, mannish trousers look great at work and even better on the red carpet. Kiki, Kate and Kate have been rocking sassy suits for a while now, following in the footsteps of 70s stylistas Keaton and Jagger, the double zeroes ladies stick to black and white and dress up their duds with high heels and minimal accessories.
Kiki shows us how its done in a 3 piece tux and bed-head hair. Suits you.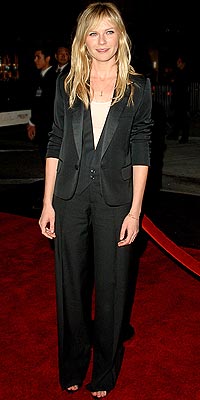 If a three piece is a bit too much for you make like Bossy and pair a crisp white tux with jeans.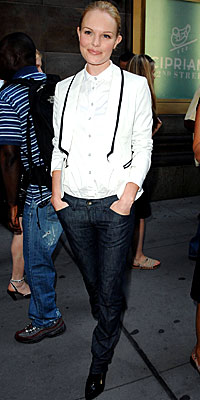 Or, take a leaf out of Annie Hall's style book and man-up with a waist coat and wide leg trews.
If Keaton can...
Still need convincing? Look no further than this sickly stylish duo.
Vanessa Paradis and Johnny Depp are such big fans of the look they
rocked it on the red carpet together.